The Challenge
"It started when our doctors texted nervous families during a surgical procedure," said EASE Applications CEO Patrick de la Roza. "What we quickly saw was the impact on anxiety, and on the waiting room experience, and we realized that we had done something very powerful."
What they initially thought would be a simple tool to develop proved to be anything but, especially given that the EASE team wanted the ability to send photos and video as a hallmark of the product.
"We quickly realized that because of HIPAA and all of the security that a hospital desires, it was going to be a lot more complicated than we expected," de la Roza said.
When the founders turned their attention to choosing a mobile development partner, they chose Kony because of its combination of powerful development tools and a strong security legacy.
Download Case Study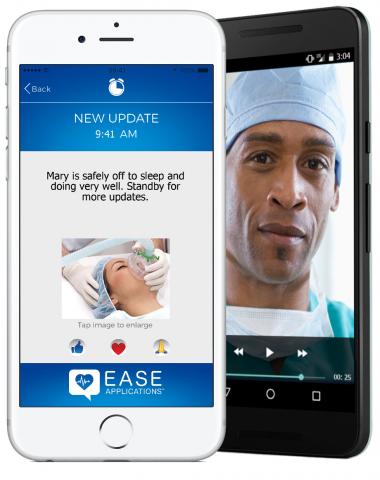 The Solution
With over 8,000 families surveyed, EASE significantly increases patient satisfaction along the following key metrics:
13% increase Physicians communicate in a way I understand
6% increase Staff addressed emotional needs
2% increase Nurses kept you informed
4% increase Likely to recommend hospital

Get it on   App Store   Google Play
Start fast. Stay fast. Without compromises.
Quickly deliver stunning omni-channel apps – without compromising on user experience, features, security or cost.
Download for free ›