EASE Applications Improves Patient Satisfaction and Experience by Providing Secure, Real-Time Healthcare Updates to Patients' Families
Few things in life cause more stress than an ailing infant. Just ask Dwayne and Tanya Harris, whose prematurely delivered 2-pound son, Damian, faced surgery just days into his life.
Not long ago, the new parents would have been in the dark for hours, wondering how their son was faring. But thanks to the Electronic Access to Surgical Events (EASE) mobile application, which lets caregivers send texts, photos and video from surgery to family members, the Harrises were able to stay informed about Damian's progress.
"The only way we could stay connected and know what was going on with our son's surgery was through the EASE app," Dwayne Harris said. "While we were a mess before he went in, the app really helped ease us by knowing that everything was okay."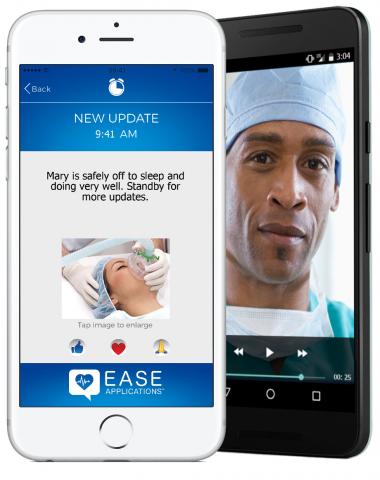 The Solution
With over 8,000 families surveyed, EASE significantly increases patient satisfaction along the following key metrics:
13% increase Physicians communicate in a way I understand
6% increase Staff addressed emotional needs
2% increase Nurses kept you informed
4% increase Likely to recommend hospital

Get it on   App Store   Google Play