The Challenge
The intersection of mobile and the Internet of Things (IoT) is a sweet spot that holds special potential for companies that manage maintenance- intensive physical assets. Perhaps no industry fits that description better than building and facilities management.
Those charged with managing large buildings or campuses are motivated by three objectives, each of which brings bottom-line implications: minimize energy usage, maximize operational efficiency, and ensure the comfort and safety of occupants.
And it just so happens that the systems in question — things like heating and air conditioning, lighting and electrical — all are tailor-made for the kind of automated monitoring and management capabilities that mobile IoT applications can deliver.
All of which explains why KMC Controls, a New Paris, Ind.-based building automation manufacturer, has zeroed in on what it sees as a huge opportunity for itself and its customers.
Download Case Study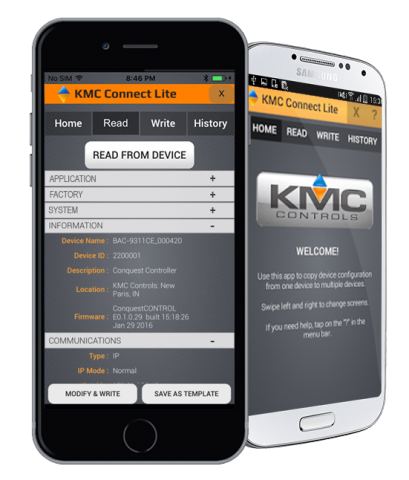 The Solution
75% reduction in initial set-up times for KMC building system controllers
Users now have real-time access to building automation systems, such as heating, cooling, water, energy usage, etc.
Analytic data enabled by the Kony Mobility Platform helps KMC see things such as how and where Connect Lite is being used, what functions are proving most popular, and how much time is being spent on each screen.

Get it on   App Store   Google Play
Visualize the possibilities
Kony Visualizer is an integrated, intuitive development environment for building fully native mobile and web applications across phones, tablets, wearables and desktops – all from a single code base. Download Kony Visualizer Starter Edition – free forever!
Download for free ›