I am really excited about Kony's latest announcement. Today, Kony embarks upon a new journey that speaks to a group of users that have, until now, been held hostage by IT. As of today, this group of users will be unleashed, liberated, and empowered to be in control of their own destiny.
Business users, rejoice: Our next level of breakthrough products and services will dramatically transform the app development process by enabling the line of business (LOB) to rapidly configure and assemble great mobile apps, reducing time to market by 75%. Mobile app development used to be owned exclusively by IT. Kony is changing the paradigm by enabling the business to deliver stunning mobile app experiences without having to write any code whatsoever.
The business/IT dance
We all know that your typical line of business owner is at times generations ahead of their internal IT department. This is particularly true for the mobile journey, since business users have been saying "I need an app for that" for few years now, while IT is still trying to make decisions around application approach (native, web, or hybrid), frameworks, development tools, and deployment options (on premise, cloud, or hybrid). IT is not deliberately blocking progress, and is doing the right thing by making sound strategic decisions for the enterprise, but the pressure and need from business is just too immediate and relentless.
The inevitable conclusion of this dance is clear from a recent Gartner survey. Gartner found that 18% of enterprises today completely outsource their mobile development, while another 55% apply a combination of outsourcing and in-house development to their mobile needs. Business owners are clearly losing control of the app creation process, and ultimately, this results in the final mobile app product not meeting the vision.
"Packaged apps" from existing solution providers and/or outside vendors offer one way to address this issue. Using packaged apps to mobilize backend systems and processes theoretically allows business users to maintain control over the app development process and deliver rich experiences on any device.
The packaged apps option
There are several companies in the mobile marketplace that claim to have packaged apps available today. These apps are commonly offered by the companies that provide the primary systems of record used by enterprises, like SAP, Salesforce, etc.
So let's say that the Sales Ops team within an organization was looking for a sales force automation app. They would buy one of these packaged apps from their CRM provider. When they open it up, they will find the application source code, which they will then customize to meet their specific needs. To say the least, the customization process will now require a major IT development cycle.
As soon as the app source code is customized, it takes its own life form, which requires constant nurturing and care. The Sales Ops team will have to constantly and consistently reach out to IT every time something needs changing.
Do apps need to change after initial rollout?
Absolutely. Once an app is in the hands of your users, there will be frequent changes for various reasons, including business process changes, user feedback, app fixes, new security requirements, and of course mobile operating system and device upgrades. These upgrades typically turn the world upside down for business users, who are trying to run their day-to-day lives and be productive through their mobile interfaces.
In the packaged apps scenario, revising the app requires a fairly extensive and time consuming IT-driven cycle to roll out every change. Additionally, if for any reason the vendor that provided the application has a new version of the app available for download, it can also take some unnatural acts to re-engineer and merge old app changes and customization into the new app, which again comes with new source code.
Apps will need to change and be upgraded. Doing so through packaged apps is a messy affair.
Introducing Kony Modeler
Enter Kony Modeler™. The new Kony Modeler puts the business user in the driver's seat by providing a visual, composition toolset that allows him or her to rapidly assemble and configure mobile-first apps from reusable, lightweight app models. This is the first "no source code" solution that enables the business to directly build mobile applications that can be immediately deployed and updated via the cloud to end users on iOS or Android phones and tablets.
Kony Modeler features configurable tools for agile app development, allowing business users to:
Configure the UI, UX, business logic,and the backend of applications
Match a desired user experience, business logic, and data model through clicks, not code
Extend and upgrade applications via configuration
Work with apps through a web-based interface console
Leverage custom code developmentas an option if necessary
Make real-time changes to apps without having to re-deploy, re-download, or visit the app store
Dynamically roll out changes to apps in real-time based upon business needs
These benefits are made possible by a new class of model-driven composite applications that are visually configurable and pre-integrated to line of business systems such as SAP and Salesforce. The app models and pre-connected interfaces to backend systems are something that enterprise IT would create and promote to the marketplace for the business to use.
Kony MobileFabric App Services and Kony Marketplace
The new Kony MobileFabric App Services powers the backend connections that make Kony Modeler so powerful. An extension of the Kony MobileFabric infrastructure, App Services allow business users to:
Mobilize and extend legacy business applications and backend processes
Connect new or existing backend systems
Work with IT to connect with backend systems like SAP or Salesforce
Support offline enabled apps that locally store data and synchronize with backend systems
The new Kony Marketplace is the final piece of the puzzle. An online exchange of pre-built components from Kony and its rich partner ecosystem, Marketplace gives business users access to ready-to-run apps as well as app models. Through Marketplace, business users can:
Discover apps and app models that can be reused and assembled
Import apps and app models into Kony Modeler for rapid configuration
Build apps from scratch or assemble with pre-built models and apps
Why this is a game changer
With Kony Modeler, MobileFabric App Services, and Marketplace, the business will be more productive, efficient, and in control of their mobile strategy and its results. Proven benefits include:
Faster to market
75% reduction in delivery time by enabling "codeless" development
Rapid app ideation and configuration cycles driven by the line of business
Ability to rapidly assemble and configure composite applications using visual tools
Cloud-based platform for immediate access and use
Better user experience
Create visually-rich, device-exploiting apps for latest phones and tablets
Design with what-you-see-is-what-you-mobilize precision
Build consistent, no-compromise, customized, and adaptable mobile experiences
Easily extend through reusable app modules from Kony and our third-party ecosystem
Lower costs
Works with existing IT investments in LOB systems of record
Eliminates pain of software updates – automatic versioning and upgrades of your app
Elastic, multi-tenant cloud provides highly cost-effective managed infrastructure
Future-proofed against new mobile OS and device releases
Returning to our example scenario above, the Sales Ops team can now request their business analyst or admin to use Kony Modeler to quickly build and deliver apps for their sales team to use, as well as continuously revise the app based on required or requested changes to the apps. They control the interface, the functionality, the connections, and the speed with which the app is deployed. In return, the sales team gets the app they actually need, not one whose requirements have been translated over and over in an endless game of telephone.
Democratizing mobile
We believe that Kony Modeler, MobileFabric App Services, and Marketplace are the first steps towards democratizing enterprise mobility. Mobile is not just another system of record or a passing technology fad. It is a fundamental change in the way we all live, work, and play, and as such, can't be held by any one silo – especially one with as many balls in the air as IT. Creating amazing mobile apps will always be a team effort, with IT, developers, executives, and more heavily involved in the process. But now, business users not only have an invitation to the party, they're sitting at the head of the table.
Want to learn more?
---
---
Latest posts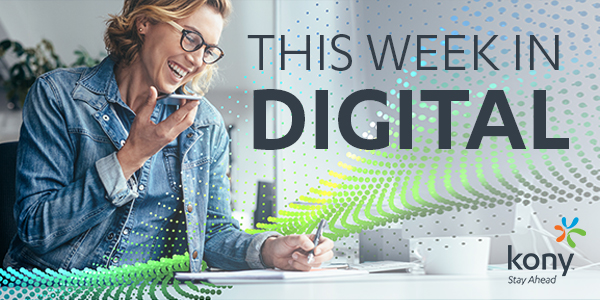 October 25, 2019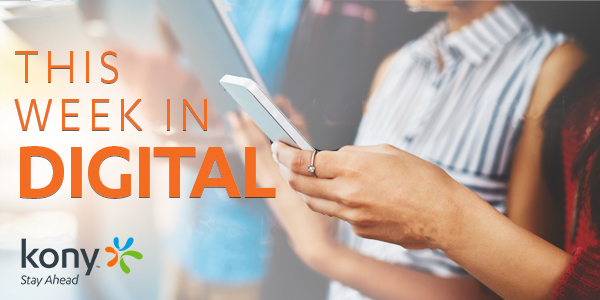 October 18, 2019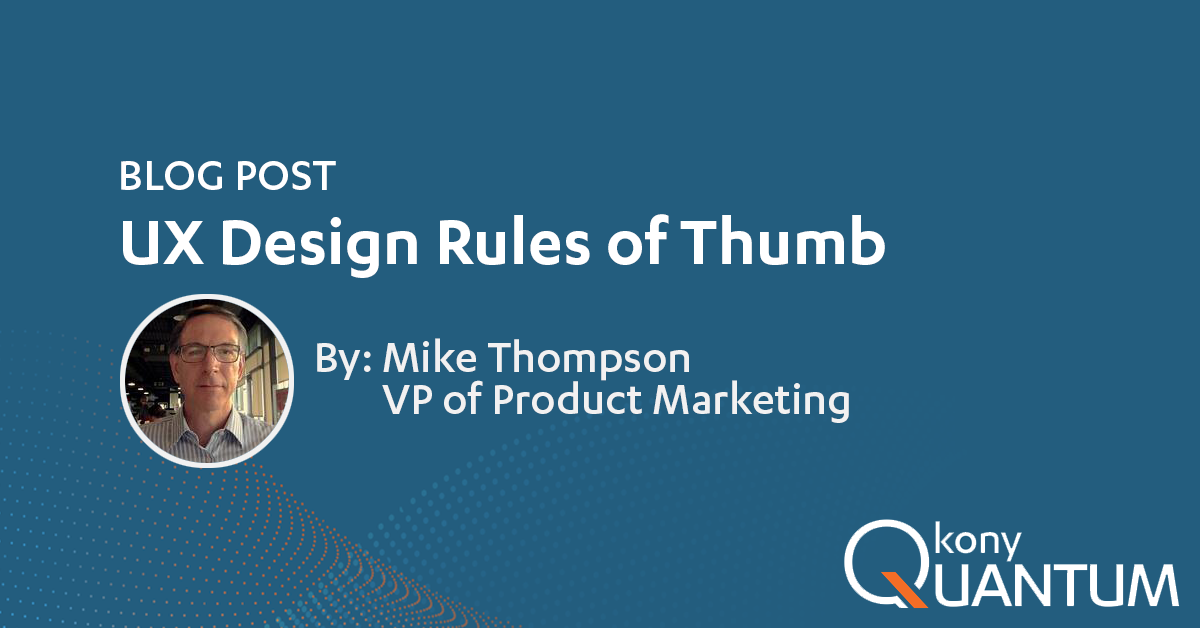 October 10, 2019