Field Service Solutions for Energy
Mobilize your workforce
Kony's Field Service Solution for Energy addresses asset management, plant maintenance and other use cases through real-time incident reporting, work order execution and management and project planning in an integrated suite of apps.
Request more info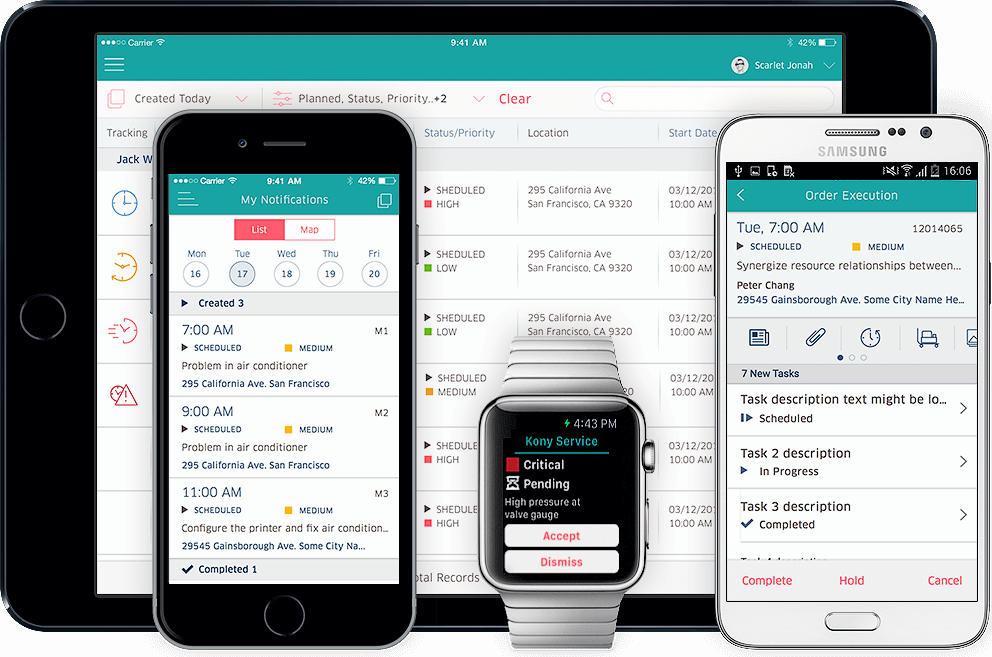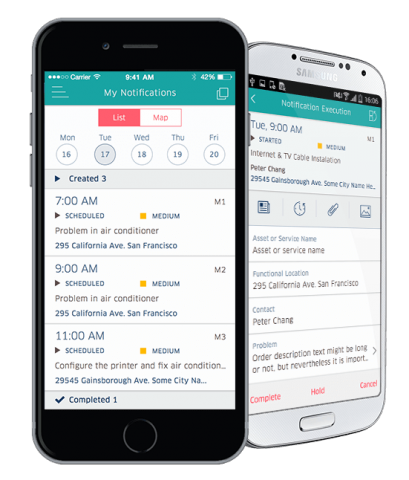 Incident Reporting
Create a better service experience and efficient notification process
Technicians, contractors and customers can create and manage their own service requests
Proactively raise notifications and alerts of problems or issues
Interface with IoT
Work Order Execution and Management
Execute work orders and tasks in the field such as maintenance or inspection/measurements checklists and inventory management
Easy management of notifications assigned to technicians
Visualize work orders and tasks in list or map
Fast identification and response to prioritized and scheduled tasks
Check history, create notes and capture photos of work
Ensure available parts & material to mitigate service delays
Enhanced and efficient control of time & materials
Check inventory in real-time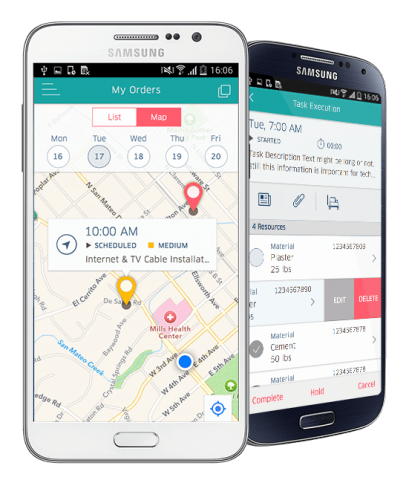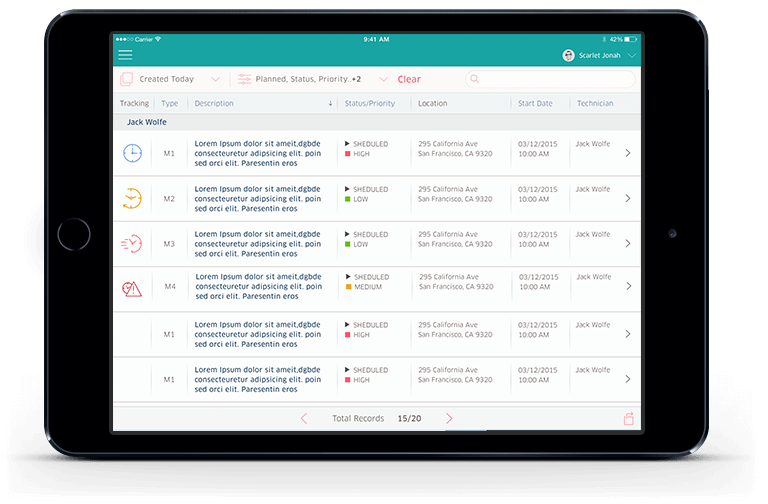 Project Planning
Plan and schedule work, allocate resources and track progress
Easily create work orders, tasks and inspection requests
Smart allocation of resources such as personnel, materials required and equipment
Native integration with maps and geolocation capabilities
Enables real-time contextual collaboration between technicians and back office
Energy & Utility Use Cases

Field Inspections
Field Data Collection
Enable field service technicians to respond more quickly, accurately, and easily.

Functionalities
Create inspection requests
Assign and schedule inspections
View and update inspections
Search and filter

Capture Electronic Data
Photo and video
Barcode
Signature
Data

Lookup historical data
Access reference materials
Online Quality Assurance and exceptions
Request follow-up work order
Recommend repairs and components

Maintenance
Preventative & IoT-Enabled Maintenance
Provide maintenance team systems that are user-friendly and that positively impact uptimes, crew efficiencies, failure rates, travel time, planning, and scheduling.

Functionalities
Integration with back-end enterprise-level maintenance systems
User-friendly, customizable interface

Job enablement
Manuals and docs
Parts and tools needed
Skills required

Location correlation
Integration with IoT
Push messaging and notifications
Real-time work orders
Predictive analytics
Dashboard and map views
Real-time information delivery

Digital Lockout/Tagout
Control & Safe Access to High-Risk Systems
Efficiently manage the tagging process across multiple users, contractors, or teams. Increase safety by communicating changes with others. Send notification to verify lockout status with owners.

Functionalities
Track employee access to high-risk equipment
Replace manual or paper-based processes
Biometrics to lockout or tagout a resource digitally
Remote visibility to lockout status
Push messaging, notifications, and call options to employees and contractors
Service procedures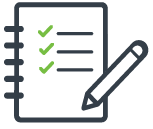 Enterprise Asset Management (Includes IoT)
Service Providers
Minimize downtime, anticipate repairs, and get more maintenance completed.

Functionalities
Manage the details of assets that have been installed on multiple sites, complete with their job history
View manufacturer, serial numbers, location, purchase, and warranty details of assets
Move assets between sites with movement auditing
Manage replacement due schedules of assets
Manage assets via Internet of Things (IoT) technology by capturing asset details via Bluetooth, and utilize the ability to operate the asset on the network
Link assets to specific jobs
Hazard & Incident Reporting
Safety & Procedures
Improve safety and compliance by enabling reporting of both proactive and incident-based hazard or safety issues. Improve accuracy and effectiveness of information capture required for hazards and incident investigation with a readily available mobile reporting capability. Manage incident prioritization and notification across field team, management and compliance teams. Provide a digital data set and analytics for trend analysis.

Field Ticket Management
Contractor Work Order Completion, Approval & Invoicing
Streamline interactions with employees and contractors executing projects or work orders. Verify actual time on the job, approvals of work completion, and cost allocation. Increase speed and ease invoicing. Track costs at any point in time.

Functionalities
Integration with back-end enterprise-level maintenance systems
Manage, view, track, and update daily tasks and jobs
Track crews to work site
Verify training and documents
Record actual time on site
Send accurate tickets to the project manager (PM) at work completion
PM reviews tickets earlier
PM electronically submits to client/producer
Producer approval or response with issues
Issue resolution
Dynamically associate field tickets with invoicing

Journey Management
Track Crew Safety & Location
Decrease risks in hazardous conditions. Real-time verification that crews arrive safely. Detect motion, request periodic check-ins, and raise alerts if parameters are unmet.

Track and optimize time on job sites. Verify location and contractor work.

Functionalities
Geographical Information System (GIS) Integration
View location via GPS
Record arrival and departure
Scheduled check-ins
Biometric authentication
Off-line/no-service procedures
Other Use Cases
Services as Sales
Service Technicians Sell Parts & Services
Increase customer satisfaction and company revenue by empowering field staff to identify opportunities and recommend services and solutions directly to customers while on premises.
Functionalities
Enable upsell sales
Access product and service catalogs
Create work orders
Instantly schedule appointments
Calculate costs in a shopping cart
Accept credit card payments
Capture signatures
Customer Energy App
Customer Visibility to Utility Information
Differentiate branding by providing value-add services, analytics, and data through applications to customers. Create intuitive, user-friendly, and cost-effective consumer applications that take advantage of native coding languages and abilities.
Functionalities
Monitor energy usage
Manage billing, plans, and payments
Customer outage reporting
Off-peak and conservation programs
Smart home integration
Set thermostat
Control lights and appliances
DERs monitoring and metering
Consumer education
Real-time alerts
Electric vehicle charging app
IoT Apps
Consumers (Home Owners)
Control air conditioning, heating, appliances, lights, and even entertainment. Allows consumers to control energy at home from work, on vacation, or half a world away.
Customer Management
Service Providers
Enables service providers to view jobs, invoices, and equipment under contract with predictive analysis.
Lead Capture
Sales Executives, Field Technicians
Ability to capture leads, generate quotes, and create proposals on the spot.
Catalogs & Manuals
Marketing Team, Sales Executives
Features interactive demos, videos, catalogs, and manuals for various plans and services including pricing.
Energy & Utilities Resources