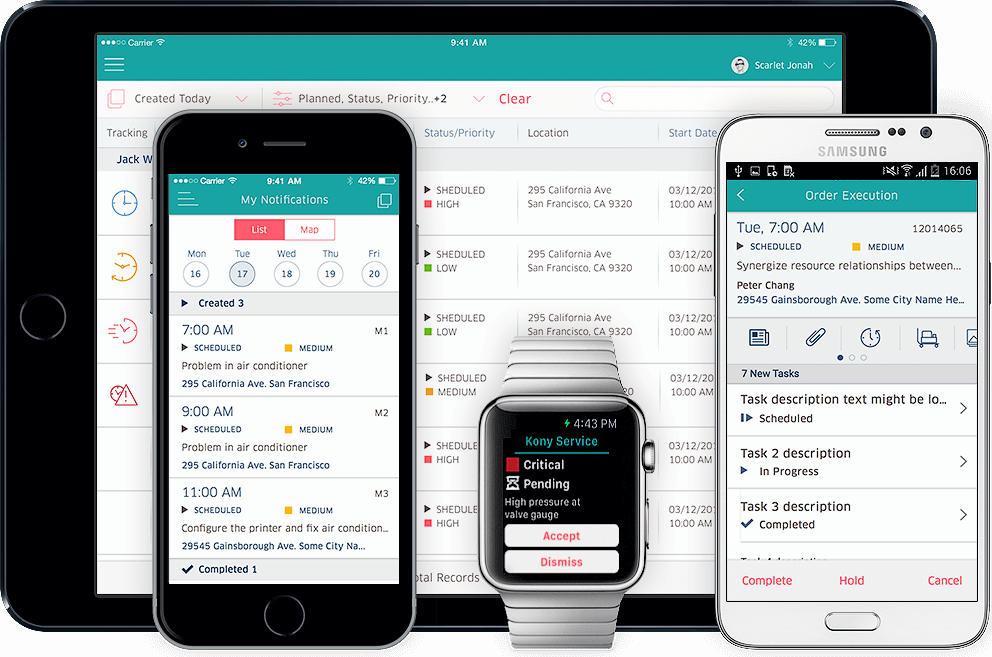 Facilities Management Solutions for Healthcare
A mobile command center for hospital facilities of any size
Kony's Facilities Management solutions for Healthcare bring together real-time incident reporting, work order execution and management and project planning in a single app – accessible across phones and wearables.
Request more info ›
Employee Self Service Solutions for Healthcare Providers
Engage and empower your digital workforce
Kony is committed to creating mobile solutions that reduce call center, payroll, and administrative costs for Providers while improving employee productivity and satisfaction.
Whether you are in the market for a pre-built app, a fully managed app, or a functional prototype, Kony's ESS Solution for Healthcare Providers can have you up and running quickly for less than the cost of a single programmer.
Request more info ›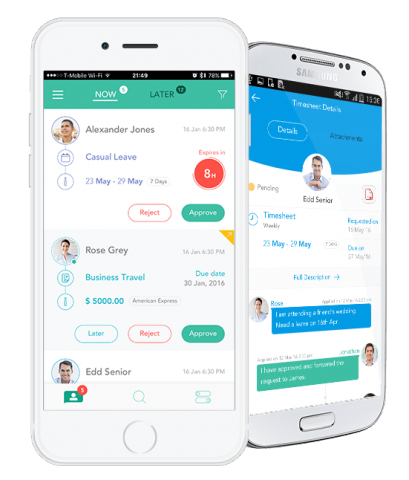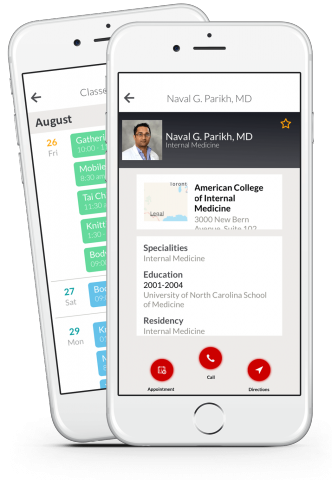 Patient Engagement Solutions for Healthcare Providers
Providers and patients working together to improve health outcomes
The patient engagement landscape continues to evolve, from Meaningful Use requirements to patient safety, payment models and real-time communication. Kony's Patient Engagement Solution for Healthcare Providers creates deeper connections while facilitating all aspects of the patient experience – from finding a doctor to post-discharge and tele-health – all for a low, fixed-cost.
Learn more ›
Healthcare Use Cases
Patient Care
Patients/Physicians/Nurse
A a patient engagement platform that facilitates patient-physician communication throughout the care continuum
Care Planning
Health care organization, Government Health Care Center
Helps physicians create treatment plans, and for patients to comply with those treatment plans
Post-discharge
Patients/Physicians/Nurse
Allows patients to access their healthcare information including individual discharge information, medication information, precautions, follow-up appointment information, emergency contacts, first aid tips, and more
Educational
Patients/Public
Allows patients to identify symptoms and be proactive regarding their own (or someone else's) healthcare. Including an additional resource for proper education surrounding uncommon conditions such as Nephrotic Syndrome in children, Cushing's Disease, and much more.
Prescription reminder
Patients (Senior Citizens)
Acts as a prescription repository that helps those with multiple medications—keep track via refill reminders, including a list of pharmacies and the option to order a refill, make payments, etc.
ER/Urgent Care
Patients/Public
Provides contact details, addresses, wait times, and scheduling can help keep someone from going further into crisis mode.
Readmissions/Emergency Department
Hospital Management
Improve the ER experience via mobile apps that facilitate and speed up patient intake and communicate patient information to the emergency department itself
Find a Physician/Doctor/Service Provider
Patients/Public
Find a doctor or service provider anywhere, anytime—whether you're at home, on vacation, or on a business trip
Hospital Navigation
Hospital Management
An easy to use wayfinding app for patients, employees, and families to find waiting rooms, patient rooms, check-in stations, X-ray labs, cafeterias, the nursery, and more. Useful for those who are blind or visually impaired, telling them where and which way to turn, where to go straight, and giving them their location.
Medication Management
Hospital Management
Keep inventory of medications, delivery schedules, and prescription verifications via a seamless app experience.
Appointment Scheduling
Patients/Public
Give patients the ability to schedule appointments within a network of hospitals from anywhere at any time.
Automatic Check-In/Check-Out
Healthcare organizations, Patients
Allows patients to fill out and submit paperwork within the app, prior to their appointment. Patients can also check-in via the app, provide insurance information, and more
Appointment Reminder
Patients/Public
Schedule reminders on a mobile device to improve customer satisfaction and improve the bottom line by reducing missed appointments
Tele-health
Patients/Public
Manage virtual doctor appointments
EMR/Practice Management
Health care organization, Government Health Care Center
Provide access to key patient data in a secure omnichannel application connected to an EMR system.
Surgery
Surgeons
Surgery can run from simple to complex, and there's always the chance of human error. Integrating technology in the operating room can help mitigate human errors; for example, surgical staff could monitor blood loss via a monitoring system that runs on an iPad, other patient vitals could be monitored via a mobile app, and the surgical team could even use an app to keep family in the waiting room updated on the patients' progress/status.
Disease Management
Students/Medical Practitioners/Patients/Public
For patients to better manage their own health including diseases and chronic illnesses. Ability to communicate with clinical professionals in real time.
Claims Management
Public
Allow patients to manage claims—regardless of the insurance provider—without needing access to a particular insurance provider's app or website. Extremely useful for patients who have both private insurance and Medicare/Medicaid, for example.
Health Calculator/Self Health Check IoT App
Public
Calculate health conditions and propose fitness activities, diagnostic testing, dietary suggestions, etc. Integrate the solution with IoT-enabled devices to provide notifications and reminders.
Referrals
Physicians/Public
All pertinent physician and specialist information in one place.
Diagnostic/Laboratory Services
Public/Diagnostic Service Centers
View nearby diagnostic/lab facilities, schedule appointments, make payments, view and print results. Personalization allows users to set their preferred language, favorite locations, and more.
Pet Care
Public
Central repository of health information for pet owners, including information regarding veterinarians, local resources, and more.
Pregnancy (Pre-natal and Post-natal app)
Pregnant women
Features information about a healthy diet, foods to avoid while pregnant, complications, consultation tips, labor tips, bodily changes, personal hygiene, and more. Expectant mothers could also use the app to communicate with their OBGYN, especially in emergency situations.
Neonatal Care
Parents
Provides educational resources, information about medications, precautions, and more. The solution can also provide shopping lists to help make caring for a premature or sick baby somewhat less stressful.
Patient Traffic Management
Hospital Management
Manage patient traffic and provide a better patient experience.
Patient Experience
Patients/Hospital Management
Measure patient experience via mobile apps, and use that information to make improvements.
Any Time Medicine
Public
Allow users to order OTC medications at any time, from anywhere, along with the ability to upload prescriptions, place orders, provide delivery options and make payments.
Supply Management
Logistics Staff
Order fulfillment and tracking, delivery acknowledgement, and purchase orders verifications at the time of delivery.
Nursing & Feeding
Public
Interactive app for educating new parents with actionable examples. Include tips on nursing and feeding in public, along with featuring nursing and feeding-related merchandise for newborns, infants, and toddlers via targeted ads.
Clinical Trials
Clinical Trail Physicians
Facilitate the accurate capture of data and reporting during and after clinical trials. Physicians can receive alerts for new clinical trials and allow them to refer patients via the app. Patients can also receive alerts and sign-up for clinical trials, allowing patients to participate in clinical trials regardless of their location and proximity to the treatment site.
Sales
Medical Representative/Sales Executives
Medical sales reps can utilize mobile CRM apps to prioritize doctor meetings, access product information and data, capture questions and responses from doctors and staff, and upload meeting reports in real time. Utilizing mobile also allows the sales person to electronically capture signatures for regulatory compliance related to distribution of drug samples.
Bed Management
Hospital Management
Help hospital management track beds, occupancy, and staff status in various wards for quicker admission, bed preparation, discharge, and transfers.
Nurse App
Nurse
Enables nurses to get information about shift allocations and patient data, such as room number and medical conditions. Nurses could also manage patient medications via alerts, update medication checklists when medications are given, and get emergency notifications if a patient requires immediate attention.
Child Care
Public
Give parents information for child care for every stage—from birth to teens. Parents can also get information regarding regional vaccinations, precautionary medications, home remedies, and more.
Healthcare Resources