Progressive Web Applications (PWA)
What is a Progressive Web App (PWA)?
At the most basic level, Progressive Web Apps (PWAs) are web apps on steroids that combine the features of a traditional web app with the performance and experience of native apps. Specifically, they are a set of guidelines, technologies, design concepts, and web APIs that work in tandem to provide an app-like experience on the web.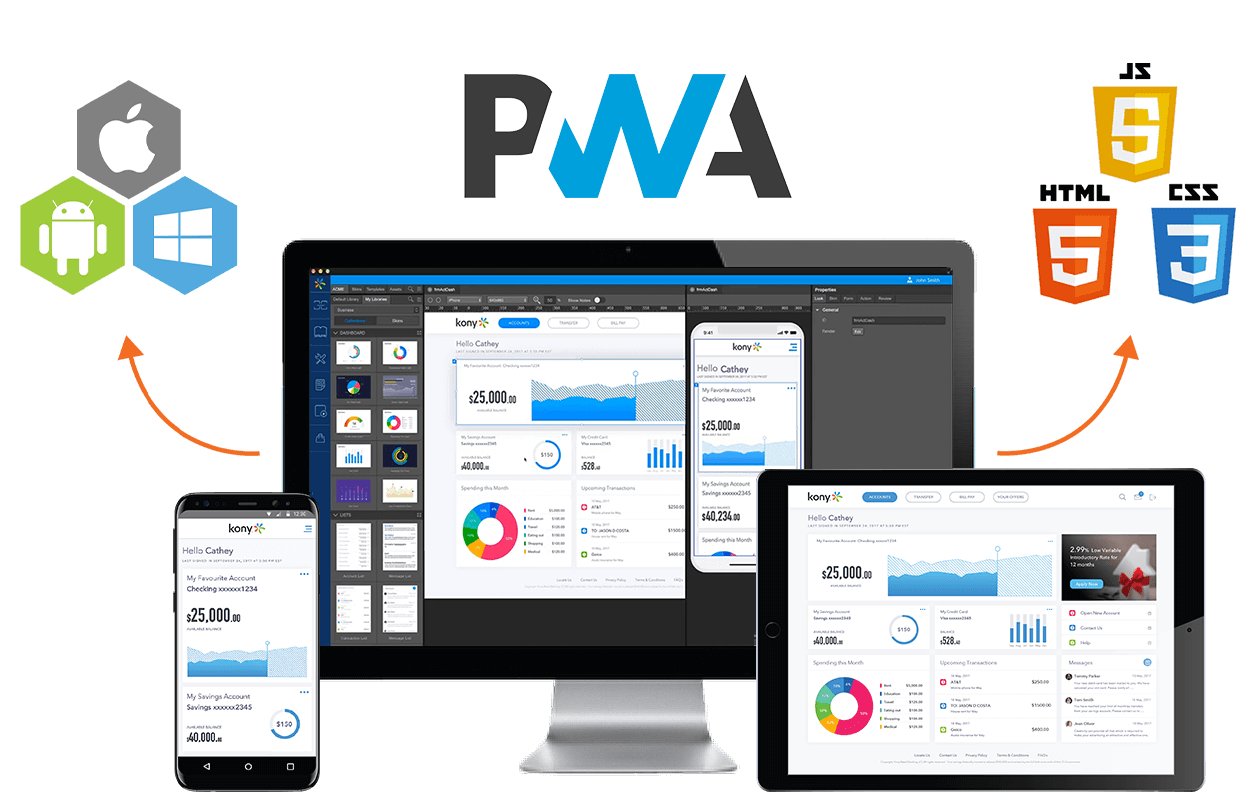 Progressive Web App Features
Two key capabilities of PWA are service worker and a manifest. The manifest provides a centralized place for application meta data such as application name, target URL, an app image or icon, configuration data and default display data. This lets a PWA app be loaded on a mobile device or browser and launched by clicking on an icon, like a native application.
The second key capability is the service worker. Service worker is a JavaScript file that acts as an intermediary between the network and device and the application. It handles key functions that mimic a native mobile application.
Manifest handles:
 Meta data for browser to find and launch
 Data to control launch process
Service worker handles:
 Managing push notifications
 Caching
 Background data synchronization
 Centralizing updates
 Managing network requests
Advantages of Progressive Web Apps
Discoverable
From web search results and supporting app stores
Installable
Pin and launch from the home screen
Re-engageable
Send push notifications, even when the app isn't active
Network-Independent
Works offline and in low-network conditions
Progressive
Experience scales up (or down) with device capabilities
Safe
Provides a secure HTTPS endpoint and other user safeguards
Responsive
Adapts to the user's screen size / orientation and input method
Linkable
Share and launch from a standard hyperlink
Comparison of PWA, Non-PWA Responsive Web and Native Mobile
Native App
Responsive Website
Progressive Web App
Functions Offline
Push Notifications
Installable on home screen
Full screen experience
Indexable by search engines
One place to enter content
Works across all devices
No download required
Don't require updates
Business Impacts of PWA
The combination of web-based access and searchability with a native user experience can significantly increase application adoption and user engagement. Some of examples of improved engagement and business results include:
Twitter Lite saw a 75% increase in tweets with their PWA

The average time spent by users on Pintrest has increased by 40% with the PWA
Google found that PWA install banners convert 5-6x more often than native install banners
Forbes saw a 43% increase in sessions and a 100% increase in engagement
Oceaneering saw success with PWA's using Temenos Quantum very early and have 4 Progressive Web Apps in production with more under development
ConEdison, a utility company, has already deployed their first Progressive Web App developed using Temenos Quantum

Quantum's Progressive Web Application Support
Temenos' Quantum multiexperience development platform has full support for PWA. Within a single project and code base you can build both responsive PWA and native mobile applications from the same project with reusable components across both, all in a unified design canvas.
After creating your application, simply check the PWA application box during the build process and Quantum takes care of creating the Service Worker, Manifest and other artifacts needed for the PWA application.
When running Quantum PWA applications through Google's Lighthouse tool, we consistently have achieved a 100% PWA rating.