Kony AppVantage for Retail accelerates your path to digital transformation, boosting sales, increasing loyalty and building brands to deliver on the promise of a fully connected retail store. We focus relentlessly on details to remove all friction from the buying process, breaking through channels and eliminating boundaries.
Your App, Anywhere – Any Device
Unified Commerce from a Unified Code Source
Prebuilt components – from mobile wallet to promotions and store navigation - make assembly fast, speeding time to market and delivering unified commerce designed to keep you a step ahead of the competition. And Kony applications power any device from a single code base, delivering a consistent experience while streamlining maintenance.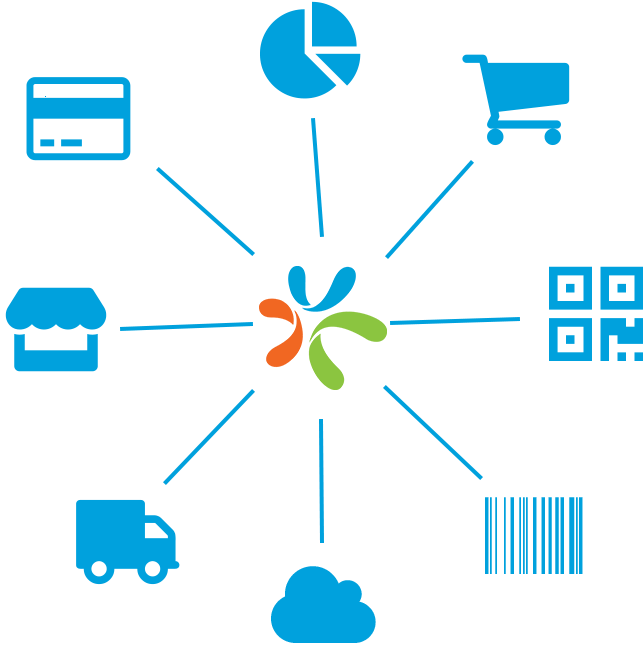 Click-and-Mortar Framework
Easy Integration to the Systems You Depend On, Online and In-Store
From showrooming to webrooming, retail to cash wrap. Our industry-leading flexibility keeps integration to existing systems like e-commerce, payments and others seamless – online or in-store.
Foundation for Innovation
Delight Shoppers with Tomorrow's Experiences – Today
AR, iBeacons, off-line sync, AI, wearables, voice shopping, biometrics? Already included. Kony's rock-solid centralized code base is pre-wired for the emerging technologies shoppers have come to expect and is prepared for whatever is on the horizon.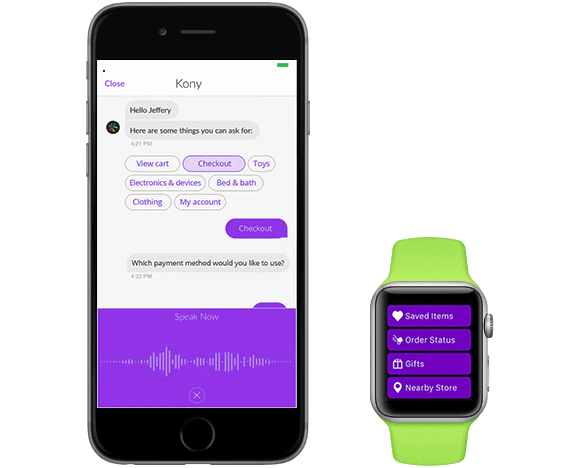 Retail Use Cases
E-commerce
Retailers, Consumers
Provides state-of-the-art features with a smart product catalog, quick and easy onboarding, simple and uncluttered navigation, a user-friendly and self-explanatory UI interface created according to the brand's philosophy, intelligent cart management, and a plethora of shipping options.
Merchandising–Shelf Management
Wholesalers, Retailers
Shelf management made easy by keeping a record of all products coming into the store, scanning barcodes, navigation to shelf, category management, etc. Artificial intelligence built into the application can push predictive notifications on product shelf life, the supply/demand curve, inventory status, etc. Graphical representation of consumer behavior will help improve cross and visual merchandising.
Merchandising–Product Catalog App
Distributors, Wholesalers, Manufacturers, Sales & Marketing Team
Allow customers to access catalogs on tablet or mobile. Showcase your products with a glossy and visually-appealing electronic catalog with touch interface that allows customers to flip through the brochure with a simple swipe gesture. Update and sync product updates instantly. Save time and money with electronic quotes and order forms.
Merchandising–Cart Management
Retailers, Consumers
Helps people fill cart on ecommerce portals like apparels, grocery, electronics, etc. as and when needed or when time permits and check out at leisure. For the items listed in the cart, the app will notify User about product exhaustion from seller, discounts, best deals, etc.
On–demand Services
Consumers, Small and Medium Business Groups
Allows consumers to get recommendations, contact, schedule appointments, track work, and make payments. The solution can also help small business groups, those who are self-employed, and freelancers to reach a wide audience by posting their service offerings and availability.
Pick and Delivery
Courier/Shipping Companies, Consumers, e-Commerce Owners, Retailers
Helps customers such as wholesalers and ecommerce sites to schedule pick-up of goods, track vehicles, and manage delivery timelines. The navigational map helps locate the delivery vehicle, design routes, and provide real time tracking.
Inventory Update
Operations Manager
Stores the stock inventory data details of each warehouse. Add/remove/update stock values, dispatch updates of stock, vendors/distributors attached to each warehouse details can be tracked using this app.
Order Management
Wholesalers, Retailers, Consumers
Manage orders of any magnitude via a digital app.
Audit/Employee Schedule
Auditors, Field Managers, Supervisors
Schedule an audit or inspection via an app.
Price Comparison App
Business Owners, Consumers
Compare prices between commodities of choice, view specifications, reviews, and ratings.
Store Layout Map
Store Staff, Consumers
Allow consumers to quickly reach the aisle of choice, navigate to common places like restrooms, safe assembly areas, emergency exits, nearest exits, the parking lot, etc.
Check List App
Consumers
An app to make a checklist for shopping, travel, vacation, etc.
Promotions and Coupons
Consumers
A one-stop reference for the gamut of discounts and coupons available across any business. The app will be smart enough to notify location, profession, or season specific discounts.
Loyalty Programs
Consumers
Make a checklist for shopping, travel, vacation, etc.
Inventory Management
Warehouse Staff
Manage inventory of goods. Order, track, store, and maintain records for goods.