Kony Fabric Capabilities
The Fabric feature set provides everything a development organization needs to support amazing omni-channel applications that exceed both user and business expectations. By combining all required mobile middleware capabilities into an integrated, cost effective solution, application development teams will be able to efficiently deliver amazing application experiences whether you just need to convert a few existing web applications to mobile or you are undergoing a digital business transformation.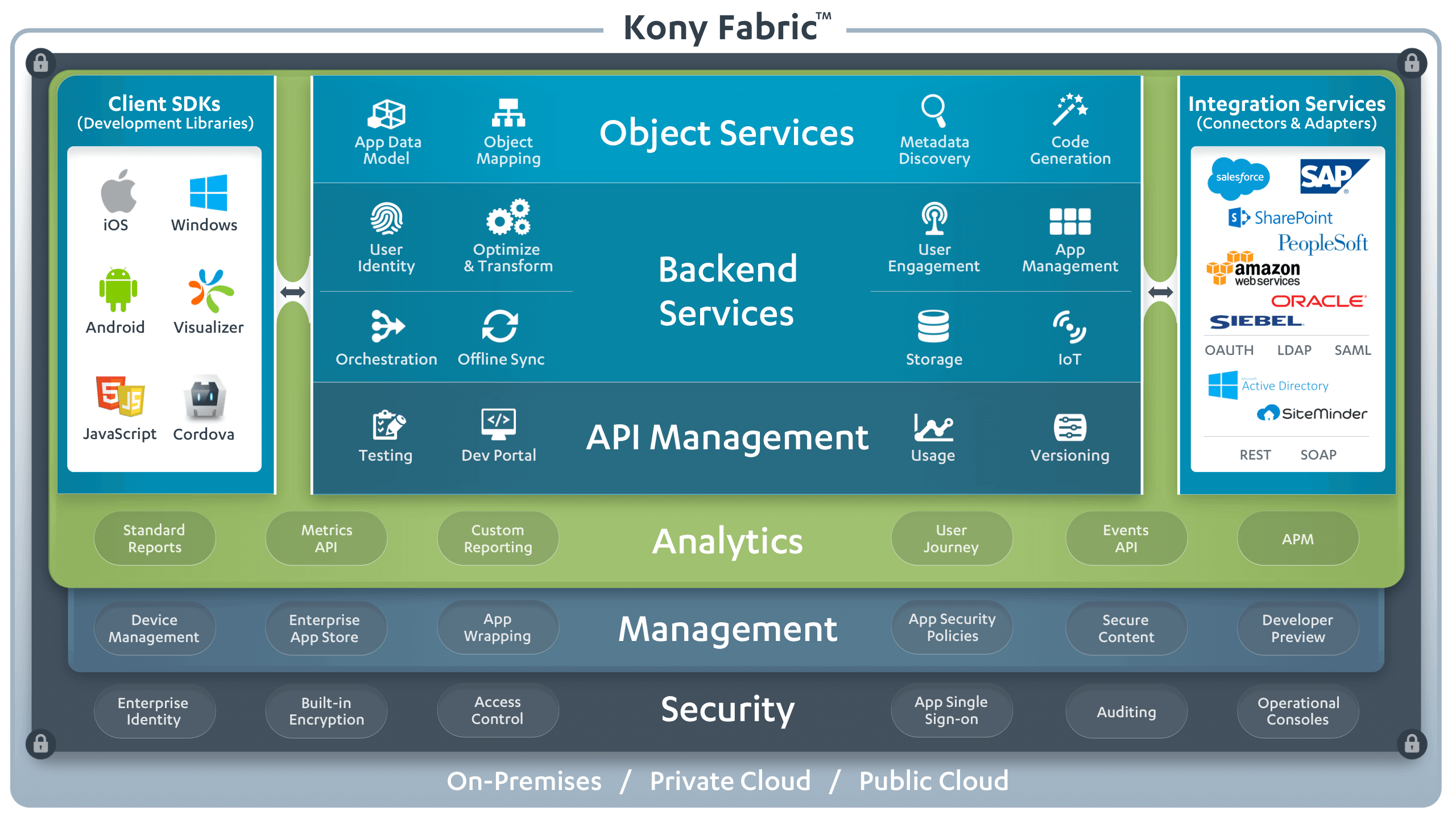 Object Services – Use a microservices approach to maximize reuse, accelerate release cycles, and reduce cross-team dependencies.
Create an app data model independent of the backend representation of data.
Utilize a powerful mapping and transformation engine to connect that model to your backend data and services.
Reduce the client development effort by generating the client object code needed to run the mobile app.
Simply turn on data synchronization to offline enable your app if needed.
Reuse app data model objects across applications.
Client SDKs – MobileFabric includes SDKs for all major client development environments including iOS, Android, Windows, HTML5/Cordova/PhoneGap, and Kony Visualizer, making client application integration seamless and intuitive
Analytics – Customizable dashboards driven from an analytics engine with both custom and prebuilt analytics including reports on device and app usage, policy compliance, and user journey event tracking.
Backend Services including:
User Identity – manage multiple backend authentication and authorization tokens with a single client token including integration to all major authentication services.
Optimize and Transform – easily convert heavyweight enterprise data sources designed for always-on, high-bandwidth connections to mobile-optimized streams without impacting backend systems.
Orchestration – aggregate multiple APIs into a server-side orchestration to simplify complex data and business logic and reduce client-side load.
Off-line Sync – off-line enable applications with enterprise grade data synchronization that maintains the backend data structure on the device, supports rules and filters, and includes robust and extendable conflict resolution.
User Engagement – enable sophisticated mobile customer engagement programs leveraging multichannel messaging based on location, campaign, events, and context.
Application Management – containerize apps with a robust security layer enabling advanced application configuration policies. Publish private apps or import public apps into your own enterprise app store.
Storage – utilize backend storage services that provide online REST APIs or automatically synchronize a copy of data to the client-device copy for offline access.
Internet of Things (IoT) – services and support specific to IoT applications including native support for the CoAP protocol and support for MQTT and HTTP 1.1 protocol via Amazon Web Services Gateway integration.
API Management – consolidate APIs in a single developer portal with auto-generated documentation, API analytics and reporting, consistent policies, and robust security.
Learn more ›
Security – End-to-end enterprise security features for encryption, user access control including integration with enterprise identity for operational consoles, auditing, and automated DevOps lifecycle features.
Integration – out of the box connectors and business adapters to backend applications (e.g., SAP, Salesforce, etc.), enterprise service buses, databases, and cloud-based third party web services. Easily build custom adapters for any backend system or create custom business logic APIs.
Node.js® Support - Run services on a Node.js-based JavaScript runtime. Enhance Fabric's capabilities with extensions from the Node.js community including an array of existing integration adaptors.
Management – Full enterprise mobility management suite including mobile application, content, and device management for complete control of your mobile environment. Integrates easily with third party mobile device management solutions as well.