Flexible deployment options
Kony offers flexible digital application deployment models, including cloud application deployment and on-premise deployment, to fit the needs of your business. All options enable an enterprise-grade environment with geo-redundant high availability.
Public Cloud
Invite other users to your account and manage their access to each of your cloud services
Securely integrate your Kony backend services with your enterprise data center
Utilize our business intelligence services to view analytics and reports
Grow your environment automatically through elastic scaling
Managed private cloud application deployment
Run in a dedicated environment tailored to your specific requirements
Utilize Kony Support to manage your environment and releases
Choose from virtual private cloud application deployment or dedicated physical hardware options
Create a secure VPN connection to your enterprise data center
Set your own maintenance windows to apply patches and upgrades
On-premise deployment
Deploy completely on premise in your own enterprise data center
Maintain complete control of system access, patches, and upgrades
Leverage Kony Support for assistance at any step along the way
More about Kony cloud services ›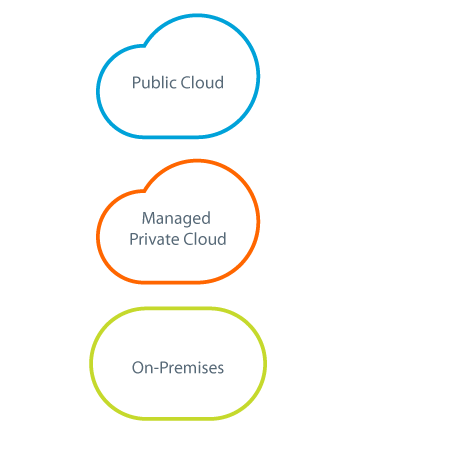 The Kony difference
All Kony-managed mobile application deployments come with:
Worry-free maintenance
Kony manages all your maintenance needs including disaster recovery, automated system backups, Kony software upgrades, and server patch management
Proactive monitoring
Kony proactively monitors hardware and applications to maintain system health and resolve performance issues
High availability
Kony delivers highly available infrastructure powered by market leaders Rackspace and Amazon AWS Cloud, providing 99.95% uptime SLAs
Security compliance
Kony deployments comply with the strictest of security requirements. Learn more about Kony's security standards.
Secure enterprise connectors
Your app components can connect to your enterprise systems via signed SSL certificates or dedicated virtual private network (VPN) connections
Real-time analytics
Achieve clear visibility and real-time insights across app usage and user engagement, with drill-down capabilities by channel, device, and operating system
Multi-region support
Choose a geo-region to house and support your Kony Cloud infrastructure
Kony Cloud mobile app
Use Kony's own iOS or Android mobile app to monitor, track, and adjust your Kony Cloud activity
In addition to the features above, cloud application deployments also include:
Testing and production in the cloud
Kony provides full support for every stage of the software development lifecycle (SDLC) from development and testing to staging and production of your clouds
Auto-scaling
Kony proactively monitors and automatically adds capacity when needed
Pay-per-use pricing
Only pay for what you use
Management console
Access and manage all aspects of your cloud configurations and instances via an easy, web-based interfaces
Visit the Resource Center for materials to inform your mobile strategy, including videos, webinars, white papers and more.
Find resources ›
Join Kony's global community of developers and access everything you need to get started with the Kony Cloud.
Join today ›