Automation and management built on the AWS and Azure Clouds
The Kony Cloud provides a layer of automation and management that leverages the powerful capabilities of either Amazon Web Services or Microsoft Azure to ensure that your apps run seamlessly. It is engineered to provide the best possible experience for enterprise-level apps. Helping ensure that your apps work anywhere, anytime, on any device or platform.
Kony Cloud is specifically designed to deploy omni-channel applications delivered as web apps or native apps across mobile tablet, and desktop channels. It provides the complete end-to-end service delivery lifecycle, allowing you to design, build, deploy, manage and analyze your app performance within a single connected environment.
Kony Cloud advantages
Speed and agility
Automated provisioning of new environments
High availability architecture with certified business continuity controls
Elastic scaling of capacity based on user traffic
Secure and high-performance enterprise connectivity VPN service
Cost
Reduced costs using leading cloud infrastructure providers
No hardware or personnel investments required to install and support physical servers
Automated security patching and software maintenance
No long-term licenses required
Security and control
Built-in backups and system monitoring
Mission-critical support via a 24x7 Network Operations Center
Industry-leading security certifications
Access controls, versioning, and auditing for built-in governance
Business analytics and operational reporting dashboards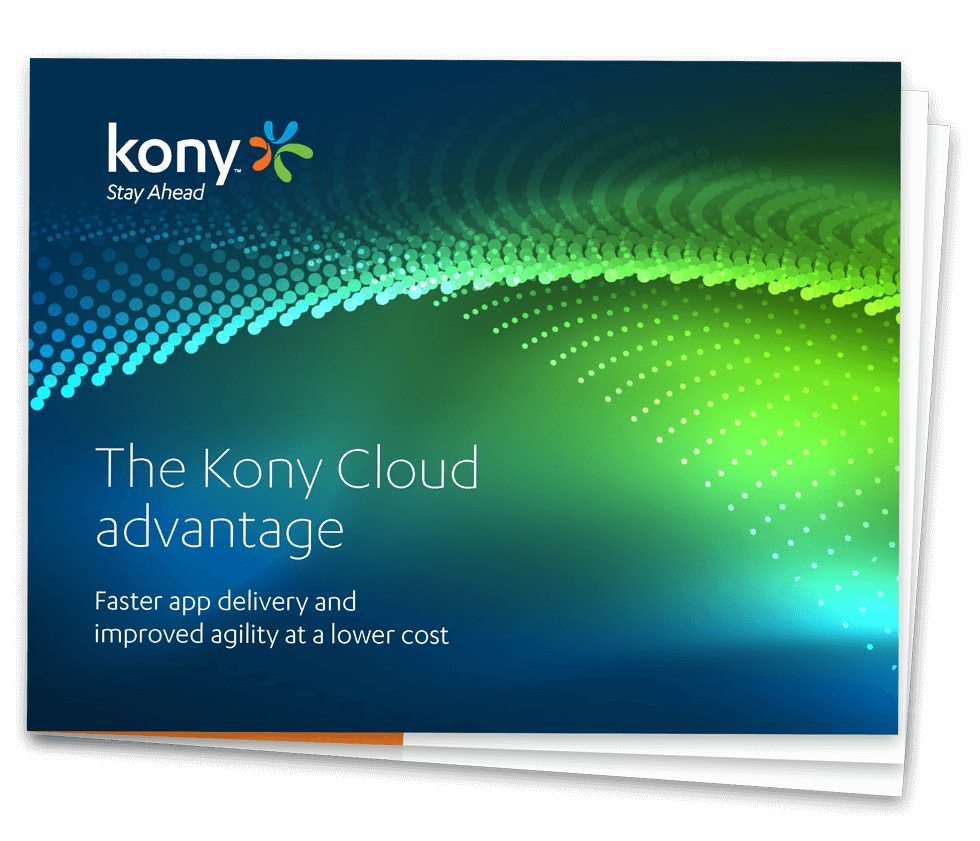 Get the eBook
Our new eBook, The Kony Cloud Advantage, provides technical information for IT decision makers looking to evaluate cloud deployment options that meet the needs of enterprise-level organizations.

Download for AWS  
Download for Azure  
Flexible cloud deployment options
Kony offers flexible cloud-based digital application deployment models to fit the needs of your business. All Kony Cloud deployment options enable an enterprise-grade environment with geo-redundant high availability.

Public Cloud
---
Invite other users to your account and manage their access to each of your cloud services.
Securely integrate your Kony backend services with your enterprise data center.
View analytics and reports using our business intelligence services.
Grow your environment automatically through elastic scaling.
Monitoring, high availability, security compliance, analytics.
Create your free account ›
Managed private cloud
---
Run in a dedicated environment tailored to your specific requirements.
Manage your environment and releases using Kony Support.
Choose from virtual private cloud application deployment or dedicated physical hardware options.
Create a secure VPN connection to your enterprise data center.
Set your own maintenance windows to apply patches and upgrades.
Contact sales ›